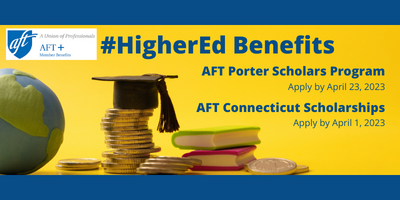 Education benefits for members of AFT affiliated local unions and their families here in Connecticut include:
The AFT Connecticut Scholarship Selection Committee will award two $2,500.00 scholarships this year:
The George C. Springer Scholarship is reserved for two AFT Connecticut members;
The Sharon M. Palmer Scholarship is for union members' spouses or domestic partners or children.
AFT Porter Scholars Program – Application Deadline: April 23 (updated Feb., 2023)
Our national union's Robert G. Porters scholars program offers four-year $8,000.00 post-secondary scholarships to students who are dependents and one-time $1,000.00 grants to AFT members.
Union Plus Scholarships – Application Deadline: January 31, 2024 (updated Feb., 2023)
The Union Plus Scholarship program has supported working families pursuing post-secondary education with one-time grants. Amounts range from $500.00 to $4,000.00, and these one-time cash awards are for study beginning in the summer each year.