Faces of Nuvance Health AFTCT Website Banner (1200 × 400 px)
Faces of HHC AFTCT Healthcare Website Slider (1200 × 400 px)
Note – updates on the impact of the COVID-19 (novel coronavirus) outbreak on nurses and health professionals and members of healthcare local unions will be linked here. *
Click here for results of our board of education (BOE) union coalition return to school survey (Jan 11, 2022).
Click here for Department of Public Health (DPH) guidance on mandatory hospital and school employee vaccinations (Jan. 4, 2022).
Click here for the state Department of Education (SDE)'s COVID-19 self-test kits distribution plan (Jan. 3, 2022).
Click here for the federal disease control agency website's healthcare professionals resource page (Dec. 23, 2021).
Click here for our national union's vaccine-related resources for local leaders (Dec. 7, 2021).
Click here for union vaccine resources for health professionals (Dec. 1, 2021).
Click here for the state health department's COVID-19 information for healthcare professionals (Apr. 29, 2021).
Click here for our legal counsel's memo on COVID-19 and employment rights (Jul. 27, 2020).
AFT Connecticut is the largest union of acute care hospital workers in the state, representing approximately 10,000 nurses and allied health professionals. Our labor federation's members work in more than 20 hospitals, community clinics and school district and college-based settings. From securing strong contracts to establishing safe staffing requirements, our members advocate for improved conditions for all healthcare workers as well as career education, relevant training and professional development.
Click here to learn how members are engaging with their community to save vital services (Jul. 20, 2021).
Click here to sign and share the petition to restore Windham's labor and delivery services (Aug., 2020).
* updates for members of the unions in the State Employees Bargaining Agent Coalition (SEBAC) will be linked to our main 'Public Employees' page.
Healthcare News
The 2023 General Assembly session ended on June 7th with the passage of a biennial state budget that included legislation aimed at unsafe staffing in hospitals and health facilities. The provisions were initially included in a proposal supported by AFT Connecticut-affiliated union activists, as well as workplace safety and patient care advocates. Governor Ned Lamont…

---

Unions in the State Employees Bargaining Agent Coalition (SEBAC), which includes ten AFT Connecticut-affiliated locals, in the spring of 2022 began negotiations with agency chiefs over pandemic hazard pay. Labor leaders had previously agreed to set the issue aside for future resolution in talks that eventually produced agreements for four-year contracts covering more than 40,000…

---
Upcoming Events
There are currently no upcoming events.
Hope for HHC Staff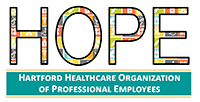 Health professionals employed by Hartford HealthCare (HHC) are coming together for a voice in their facilities. Click here to learn more.