Date:
Sat, 06/04/2022 – 8:00am – 2:00pm
Note: end time approximate; convention adjourned once all pending business complete.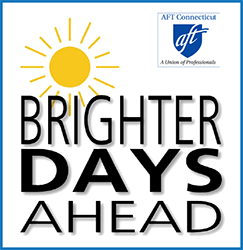 The final agenda for our state federation's annual business convention is linked below. Votes on proposed amendments to AFT Connecticut's bylaws and constitution, as well as properly submitted resolutions, will be part of the schedule of events.
Delegates, alternates and guests will be asked to participate in a brief action in support of common sense reforms to end gun violence. To prepare in advance, plan to wear orange and bring a smartphone or Internet-connected device with the free Twitter application download and logged-in to a personal or union account.
Important deadlines for convention participants (applicable documents linked below) follow, though dates are subject to further change:
April 4 – submission of PROPOSED AMENDMENTS to the AFT Connecticut Constitution;
May 1 – submission of NOMINATIONS for the Joseph H. Soifer Award, and the Unionist of the Year;
May 4 – submission of PROPOSED DUES-RELATED AMENDMENTS to the AFT Connecticut constitution;
May 14 – submission of RESOLUTIONS for consideration by convention delegates;
May 20 – payment of dues through March, 2022; &
May 25 – submission of certified DELEGATE and ALTERNATE credentials and GUESTS list, names and addresses of your principal executive and financial officers, current executive board members, membership roster, copy of your current constitution, copy of your Audit/Review/Internal Review/Financial Statement Compilation.
Aqua Turf Club
556 Mulberry Street
Plantsville, CTMiscellaneous event settings
Contact name:
Anna Mowrey
Contact phone:
(860) 257-9782
Contact email:
Cost:
$100 per attendee (forms below)